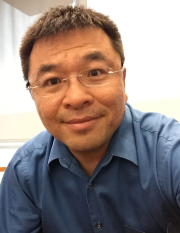 The University of Texas MD Anderson Cancer Center
Department of Experimental Radiation Oncology
My laboratory studies many aspects of DNA damage responsive and DNA repair pathways, which include Radiation-induced DNA damage response (DDR), BRCA1/2 and homologous recombination repair, Replication stress pathway and lesion bypass, Fanconi anemia pathway and interstrand crosslink repair, Spartan/C1orf124/DVC1 and DNA-protein crosslink repair, and more recently the roles of DNA damage response in innate immunity. We also conduct mass spectrometry-based proteomics studies of various signaling pathways involved in tumorigenesis, recently focusing on Hippo/YAP and LBK1-AMPK pathways. In addition, we perform whole genome CRISPR/Cas9 screens to investigate gene-gene and drug-gene interactions involved in cancer development and cancer therapy.
Rotation students are welcome to participate in any of these studies.
Education & Training
PhD, University of Vermont, 1993
Research Info
DNA damage response and DNA repair; functional proteomics
Research Opportunities
---
Programs
---
---