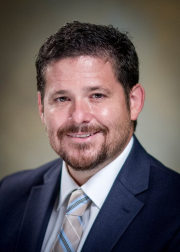 The University of Texas MD Anderson Cancer Center
Department of Cancer Systems Imaging
I am a chemist with a background in radiochemistry, medicinal chemistry and imaging science. Since 2006, my laboratory has focused on the discovery, translation, and validation of chemical and molecular probes for cancer imaging and therapy. I am a Professor of Cancer Systems Imaging at MD Anderson and serve as the Scientific Director of the Center for Advanced Biomedical Imaging (CABI). Supported by the NIH, DOD, industry and philanthropy, our lab discovers and translates novel radiopharmaceuticals and chemical probes, with emphasis on positron emission tomography (PET) imaging and drug development. Current directions of the lab focus on quantifying cellular metabolism non-invasively through the use of high-affinity ligands for receptor-based targets and metabolic substrate transporters elevated in cancer cells. In addition to developing tracers for metabolic targets in cancer cells, our lab is also interested in developing and translating a portfolio of new PET tracers for immuno-oncology. Spawning our efforts into cancer drug development, our lab discovered the first potent and selective pharmacological inhibitors of ASCT2/SCL1A5, including V-9302. This work has led to partnerships with pharma to develop new small molecule therapies targeting glutamine metabolism in oncology and potentially other human diseases. I am very enthusiastic about trainees and training experiences. Our lab celebrates multi-disciplinary team science. Opportunities for trainee projects include (but are not limited to): chemical/tracer/drug discovery; radiochemistry; radiopharmaceucticals for imaging and therapy; molecular imaging, including positron emission tomography, magnetic resonance imaging, and image-guided surgery; imaging genomics; advanced imaging in clinical trials.
Education & Training
PhD, Texas Tech University, 2004
Programs
---
Faculty Development
---
---