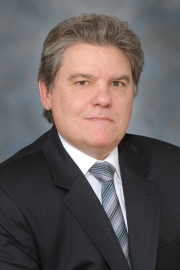 The University of Texas MD Anderson Cancer Center
Department of Epigenetics and Molecular Carcinogenesis

Primary research interests include cancer genomics, biomarker discovery and molecular carcinogenesis. His laboratory has recently performed the first comprehensive genomic, transcriptomic and methylome profiling of breast pre-invasive breast lesions (ductal carcinoma in situ, DCIS). The final goal is to identify biomarkers of translational use for better risk stratification of DCIS patients. His laboratory also works on discovery and translation of novel targeted therapeutic approaches for breast cancer.
The Aldaz laboratory was also the first to discover and clone WWOX the target gene of chromosomal fragile site FRA16D, the 2nd most common site for chromosomal breakage, deletion and rearrangement in the human genome. WWOX behaves as a tumor suppressor. Deletions affecting WWOX and loss of expression are frequent in epithelial cancers and indicative of poor prognosis. WWOX translocations and deletions are also common in multiple myeloma, thus understanding the role of WWOX in multiple myeloma is a major topic of interest at the Aldaz lab.
In collaboration with other groups it was demonstrated that WWOX is also important in CNS pathology. Patients with homozygous loss of function mutations affecting WWOX are characterized by suffering from epilepsy, ataxia and mental retardation (OMIM #614322, SCAR12) and also early infantile epileptic encephalopathy (OMIM #616211, EIEE28). Importantly, the largest to date, GWAS meta-analysis of late-onset Alzheimer's disease (AD) very recently identified WWOX among five new genes associated with AD risk. Thus, WWOX is a highly conserved and tightly regulated gene and when defective the consequences are significant and deleterious as demonstrated by its association not only with cancer but also with other important human pathologies such as metabolic syndrome and CNS related pathologic conditions. As a consequence genetically engineered mouse models carrying specific knock-in Wwox mutations are being employed at the Aldaz lab to explore the role of this gene in CNS development and neurodegeneration.
Education & Training
MD, University of Buenos Aires Medical School, 1980
PhD, University of Buenos Aires Medical School, 1983
Research Info
Breast Cancer Genomics
Research Opportunities
---
Programs
---
Faculty Development
---
---