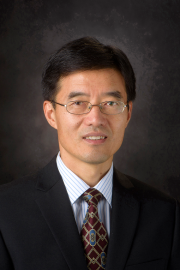 The University of Texas MD Anderson Cancer Center
Department of Epidemiology
My research embraces the transformation of cancer epidemiology from origins in traditional to molecular epidemiology, driven by the rapid advances in high-throughput "omics" technologies. Innovations and collaboration in molecular biology, genetics, and pharmacology, have been, and will continue to be, key assets for modern epidemiological research. These areas are foundational to my own training and background. Stemming from these areas, my research has applied both a hypothesis-driven, biology-based approach and a discovery-driven, agnostic and holistic approach, using a variety of cutting-edge "omics" and next generation sequencing technologies. The approach to my research program is built on the premise that integration of genetic, epigenetic, transcriptional, proteomic, and metabolic markers with epidemiological and clinical data can more effectively predict a person's cancer risk and a patient's prognosis, therapeutic response, and toxicity. The overarching goals are to uncover the biology underlying the differences in cancer susceptibility and outcomes, identify high-risk individuals, and predict patient prognosis and treatment response to achieve personalized cancer prevention and therapy.
We have identified novel genetic susceptibility loci for a number of cancers (e.g., lung, bladder and kidney cancer) through genome-wide association studies (GWAS). We have shown that overall telomere lengths, mitochondrial DNA copy number, and global DNA methylation in peripheral blood lymphocytes (PBLs) are associated with altered cancer risks and prognosis. We have used Mendelian randomization approach to analyze genetically predicted intermediate phenotypes as cancer risk and outcome predictors. We have applied whole genome methylation array and bisulfite sequencing to identify epigenetic predictors of clinical outcomes in cancers. Since epigenetics sits at the interface between genetics and environment, I am particularly interested in research on the influence of environmental exposure, and behavioral, nutritional, and pharmaceutical intervention on DNA methylation and miRNA expression. We are also working on functional characterization of identified genetic and epigenetic biomarkers.
Projects:
Molecular epidemiology and genetic susceptibility of lung, bladder, kidney, prostate and other cancers
Intermediate phenotypes and Mendelian randomization study of cancer predisposition
DNA methylation as predictors of aggressive prostate cancer
Epigenetic study (DNA methylation and non-coding RNA) of HPV-related cancers
Functional studies of genetic susceptibility loci and epigenetic biomarkers
Education & Training
Ph.D. - Baylor College of Medicine - 1998
Programs
---
Faculty Development
---
---