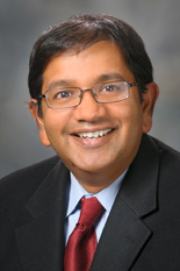 The University of Texas MD Anderson Cancer Center
Department of Translational Molecular Pathology
Pancreatic cancer is an almost universally lethal malignancy, with a survival rate of less than 10% at five years. The vast majority of patients present with advanced, surgically inoperable disease, and current chemotherapeutics have had minimal impact on prognosis over the last 40 years. The long-term goal of our laboratory is to improve the dismal survival rates for patients afflicted with pancreatic cancer. The broad categories of research being undertaken in our laboratory include:
(a) Functional annotation of recurrent "driver" mutations in pancreatic cancer using biologically relevant in vitro (organoid) and animal models.
(b) Liquid biopsies and tissue based deep phenotyping (single cell analysis and spatial approaches) tied to longitudinal samples obtained from pancreatic cancer patients.
We are heavily invested in collaborating with our clinical colleagues in the rapid translational of laboratory findings to the clinic. Graduate students will be offered an opportunity to participate in a multi-disciplinary research endeavor that includes working with genetically engineered cell lines and mouse models, as well as access to human biospecimens, including tissues and body fluids from patients with established cancers and precancerous lesions. Opportunities for gaining expertise in next generation sequencing and bioinformatics are available, especially in the context of "real world" samples. Participation in clinical and research conferences relevant to pancreatic cancer will be strongly encouraged
revised 2.19.2020
Education & Training
MBBS, All India Institute of Medical Sciences, 1996
Programs
---
---