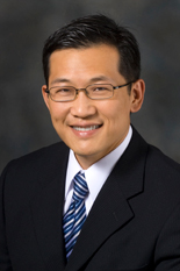 Steven Lin
Regular Member
Associate Professor
The University of Texas MD Anderson Cancer Center
Department of Radiation Oncology
My primary research interests lie in improving the therapeutic index of radiotherapy for thoracic malignancies. This will come in two approaches. The first is proper patient selection based on biomarkers that distinguish high risk individuals (who need more aggressive therapies) from lower risk individuals. We use patient samples and animal models to determine the role of circulating tumor cells and circulating tumor DNA on predicting the aggressiveness of certain cancers and the micrometastatic disease status of patients. This will enable early detection of treatment failures and allow the adjustment of various therapies. The second area of research is to enhance radiation effects on cancer cells. This comes in the form of drug screening using innovative high throughput synthetic lethal screening approaches to identify drugs that could enhance radiation effects on cancer cells, as well as the use of various genetically engineered mouse models (GEMMs) to help test the efficacy of targeted drug therapies in combination with radiation. These methods will be used to identify druggable targets that confer treatment resistance.
Projects/Techniques:
Determine how certain co-mutations with the various mutant Kras alleles in lung cancer confer radiation responsiveness
Identifying mechanisms how the signaling differences of the various Kras mutant alleles relates to drug therapy response and resistance.
High throughput compound library screens to identify signaling pathways and molecular determinants for radiation response.
The student will utilize molecular biology and cell culture methods to understand mechanisms of drug and radiation resistance. The student will learn how to maintain mouse colonies and develop mouse models of localized lung tumors that enable the study of metastasis and radiotherapy efficacy using the latest in small animal image guided irradiator. The student will learn techniques of in vivo imaging to track tumor growth and treatment response, and perform necropsy and tissue harvest for immunohistochemistry. The student will learn in vitro techniques including clonogenic survival assay, immunofluorescence and western blotting to elucidate the response and mechanisms of radiation resistance. In collaboration with bioinformaticists, the student may also learn data analysis and integrating –omic data with functional data to identify drug targets.
Education & Training
M.D., Ph.D. - University of California, Irvine - 2004
Programs
---
---