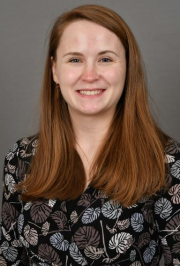 Paige Roberts
Associate Member
Instructor
The University of Texas Health Science Center at Houston
McGovern Medical School
Department of Pediatrics
Research Description:
Paige Roberts is a dietitian and clinical instructor in the Department of Pediatrics,
Division of Medical Genetics at McGovern Medical School at The University of Texas
Health Science Center at Houston. Paige assists in clinical care for patients with
metabolic disorders requiring dietary treatment and is the primary research dietitian in
research studies involving Phenylketonuria within the Division of Medical Genetics. She
enjoys working on projects related to nutrition management of metabolic disorders.
Research Interests:
? Inborn errors of metabolism
? Nutrition education
? Aminoacidopathies
? Fatty acid oxidation disorders
? Urea cycle disorders
McGovern Medical School Faculty
Education & Training
RD/LD - The University of Texas Medical Branch School of Health Professions - 2018
Programs
---
---