Chen, Dessauer named 2021-2022 Darlington Mentor awardees
June 27, 2022
Tracey Barnett/ MD Anderson UTHealth Graduate School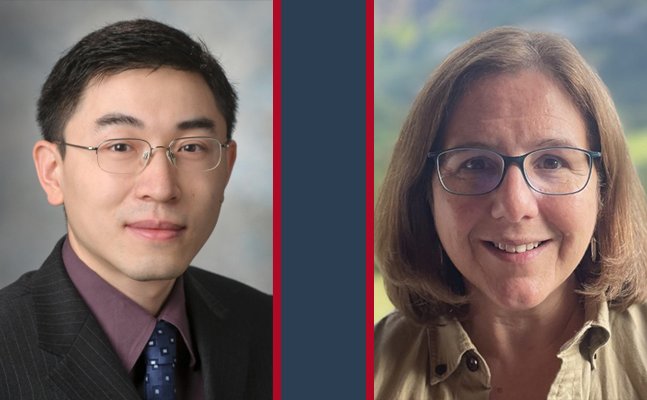 The University of Texas MD Anderson Cancer Center UTHealth Graduate School of Biomedical Sciences faculty members Jichao Chen, PhD, and Carmen Dessauer, PhD, are the recipients of the 2021-2022 Paul E. Darlington Mentor Award for GSBS Faculty.
Chen is an associate professor in the Department of Pulmonary Medicine, Division of Internal Medicine at MD Anderson Cancer Center. He is the director of the GSBS Program Genetics and Epigenetics, and has been a faculty member at the Graduate School since 2011.
His current research focuses on the normal developmental processes that build the lung and how such processes evolve across species and go awry during lung malformations, injury and tumorigenesis.
"I am honored to receive this mentor award, for doing what I enjoy and find meaningful and for passing on the excellent mentorship I received myself," said Chen. "Making a difference in the scientific career of others is as important as making scientific discoveries."
Dessauer is a professor in the Department of Integrative Biology and Pharmacology at McGovern Medical School at UTHealth Houston. She is affiliated with the Programs in Biochemistry and Cell Biology, and Neuroscience and has been a GSBS faculty member since 1998.
Her research uses structural, biochemical, live-cell imaging, and molecular biology techniques to understand the complex regulation of adenylyl cyclase by heterotrimeric GTP-binding proteins, kinases, and other interacting proteins.
"Mentoring the next generation of scientists has always been a passion of mine and is the most gratifying part of my job," said Dessauer. "It is such an honor to be recognized by my students and fellow faculty and to receive an award bearing Paul Darlington's name. He was truly an inspiration to us all."
These awards are given to recognize GSBS faculty members who have had exceptional impact on GSBS students and faculty through their mentoring efforts. A formal awards presentation will be held at the 2022 Lab Coat Ceremony in the fall.