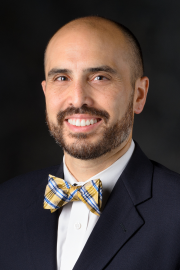 Jason Huse
Regular Member
Associate Professor
The University of Texas MD Anderson Cancer Center
Departments of Pathology, Anatomical and Translational Molecular Pathology
My laboratory studies the molecular pathogenesis of primary brain tumors as well as brain metastases. We are particularly interested in how disturbed gene regulation mediates crucial oncogenic phenotypes.
Recent molecular profiling conducted on diffusely infiltrating gliomas, the most common brain tumor variants, has firmly implicated global epigenetic dysfunction in the process of cancer formation. In particular, highly recurrent mutations in genes such as IDH1, ATRX, and H3F3A, have been shown to induce widespread disturbances in DNA methylation and/or chromatin architecture. We are now investigating how these molecular alterations, which largely define the core molecular subgroups of glioma, dysregulate gene expression and drive oncogenesis. Our studies apply high-throughput genomic technology as well as focused analytical methods in both in vitro and in vivo settings. We are also utilizing unique epigenetic signatures induced in our model systems as a basis for drug screening and selection.
Brain metastasis of primary cancer from peripheral organ sites represents a serious and often fatal complication affecting many patients. We are now studying the transcriptional events underlying the development of brain metastasis. Our strategy employs the identification and molecular analysis of patient-matched tissue sets across a range of primary tumors metastatic to the brain. In doing so, we aim to identify key transcriptional programs and their master regulators whose involvement in the development of brain metastasis is essential. We will then model the behavior of these dysregulated gene networks in disease-relevant in vitro and in vivo systems.
Finally, we have a long-standing interest in the molecular classification of primary brain tumors as a vehicle to develop of more accurate prognostic and predictive biomarkers. In particular, we are engaged in collaborative profiling efforts designed to identify molecular, clinical, and/or radiographic factors designating disease outcome in patients with diffuse gliomas. We are also investigating how specific genetic polymorphisms predict risk for the development of specific glioma variants.
Rotation students will work independently under the close supervision of a senior researcher in the lab as well as myself. Precise projects will vary, but are likely to involve the development of crucial reagents required for long-term experimental objectives. Students will also attend regular lab meetings to become fully informed as to the various investigations ongoing in the lab.
Education & Training
M.D. - University of Pennsylvania - 2003
Ph.D. - University of Pennsylvania - 2002
Programs
---
Faculty Development
---
---