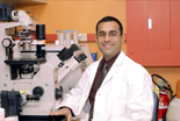 The University of Texas MD Anderson Cancer Center
Department of Cancer Biology

My research focuses on investigating the mechanisms of cell-environment interactions essential for maintaining health, characterizing the disruption of these molecular communication networks in cancer and other diseases, and using these mechanisms to develop novel strategies for diagnosis and therapy of cancer and other diseases.
Current projects in the lab (below) encompass the full spectrum of medical research from patient to bench to bedside, and harness the unique basic science, translational science, clinical research and patient engagement available to cancer researchers and trainees at the Texas Medical Center.
Tumor microenvironment and metastasis
Cellular and tissue plasticity in cancer, tissue injury and organ regeneration
The role of extracellular vesicles/exosomes in disease (cancer, vascular, cardiovascular and neurodegenerative diseases)
Novel exosome-based therapeutics for cancer and other diseases (mechanism-based research, coupled to translation research and clinical trials)
A tutorial in my laboratory would provide an opportunity to participate in diverse projects that use a variety of molecular, cellular, functional and computational approaches to explore disease mechanisms. Animal models, cell culture models, immunological analysis, flow cytometry, genetic analysis, single cell sequencing/analysis, nanoimaging, machine learning, and other current and emerging technologies are used to address scientific questions.
Students are encouraged to assess the research as well as the overall environment during their research rotation, and can reach out to any of the trainees or group members listed on our lab website. Graduate students are encouraged to develop independent projects while being fully supported and mentored by the PI as well as the senior members of the group. We strive to make teamwork and integrity central to our laboratory research culture.
Education & Training
PhD, University of Kansas Medical Center, 1992
MD, Brown University School of Medicine, 2009
Research Opportunities
---
Programs
---
Faculty Development
---
---