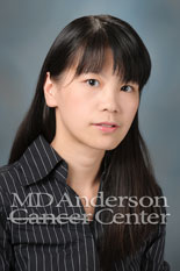 Guang Peng
Regular Member
Associate Professor
The University of Texas MD Anderson Cancer Center
Department of Clinical Cancer Prevention
Cancer genome sequencing studies reveal that cancer result in large part from the accumulation of genetic alterations. The progression of premalignant cells is an evolutionary process in which genomic instability provides the fundamental driving force for genetic diversity. Thus, the overall goal of my laboratory is to apply the basic knowledge of genome maintenance mechanisms to cancer prevention and therapy. More specifically, recent work in my laboratory explores the following directions.
Identify genetic alterations in the DNA repair network that occur at early stage of carcinogenesis
We aim to investigate the novel functions of chromatin remodeling complex SWI/SNF, human nucleases/helicases DNA2 and mutational enzyme APOBEC3B in promoting tumorigenesis by both in vitro and in vivo studies, which may lead to identification of new strategies for early detection and intervention.

Discover novel agents targeting the DNA repair network by genetic and chemical approaches
We aim to utilize chemical screening and bioinformatics' tools as our drug-discovery platforms to systematically identify chemical compounds that target the DNA repair network. We will determine whether the modulation of specific DNA repair pathways would lead a synthetic lethality interaction in premalignant cells with hyperactive DNA replication and with BRCA- and mismatch repair-deficiency. These candidate compounds will be tested for their cancer preventive and therapeutic effects.

Develop systems biology approaches to understand the dynamics of the DNA repair network in tumor evolution
We aim to utilize network-based mathematical modeling and molecular biology approaches to understand and target the DNA repair network. These new interdisciplinary approaches will offer a revolutionary conceptual framework to determine the compound effect of the DNA repair network rather than focusing on an individual repair gene's function in tumorigenesis.
Education & Training
M.D. - Tongji Medical University - 2002
Ph.D. - University of South Carolina - 2005
Programs
---
Faculty Development
---
---