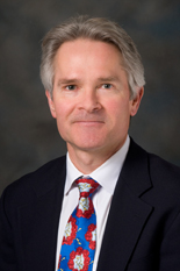 R. Eric Davis
Regular Member
Associate Professor
The University of Texas MD Anderson Cancer Center
Department of Lymphoma and Myeloma
My goal is to advance treatment of lymphoma and myeloma by continuing my focused work on cell signaling and establishing an active translational genomics program. My current signaling interest is on understanding the mechanism by which the B-cell receptor signals in certain types of lymphoma, leading to constitutive activation of the NF-kappaB and other pathways, and in identifying small molecules by which this can be inhibited. My genomics laboratory is currently focused on using gene expression profiling to understand the response to therapy in some of the many clinical trials in the Department of Lymphoma and Myeloma, with the intention of being able to provide additional genomic assays such as array CGH. A tutorial in my laboratory would be focused on either cell signaling studies, using cell lines, or translational genomics using patient samples, although there are opportunities for overlap.
Projects/Techniques:
Work on cell signaling primarily involves the creation and use of engineered cell lines for functional studies. Techniques include reporter assays, molecular cloning, use of viral vectors, flow cytometry, sequencing, RNA interference, gene expression analysis, and homologous recombination. Work on translational genomics primarily involves microarray measurement of mRNA levels for gene expression profiling of tumor samples and other patient materials. Other techniques or molecules may be utilized, e.g. qRT-PCR, SNP arrays, or genomic sequencing. Results will be analyzed primarily for correlation with response to specific treatment, to identify gene signatures that may be used for prediction, therapy assignment, or identifying pathways that determine outcome. This will involve bioinformatic and biostatistical approaches such as gene set enrichment analysis.
Education & Training
M.D. - Medical University of South Carolina - 1984
Programs
---
---