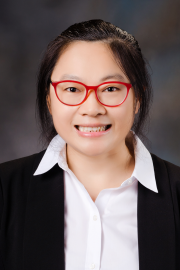 Linghua Wang
Regular Member
Associate Professor
The University of Texas MD Anderson Cancer Center
Department of Genomic Medicine
Our Laboratory at MD Anderson Cancer Center is a computational biology research lab. We develop and apply innovative bioinformatics approaches to dissect the tumor 'ecosystem', deeply profile tumor cells and the cells of the tumor microenvironment, as well as tumor-immune-stroma crosstalk at single-cell resolution and in the spatial context using cutting-edge single-cell and spatial omics technologies, coupled with state-of-the-art computation and modeling. Our aim is to harness the potential of data science to improve our understanding, detection, and treatment of cancer. Specifically, our overarching goal is to advance our understanding of the cellular & molecular cues underlying early tumorigenesis, disease progression, and the development of therapy resistance, and to translate our novel discoveries into improved patient care. Our translational interest include:
Early tumor development: Identifying the earliest events driving tumor progression from precursor diseases; identifying biomarkers and developing models for early prediction of disease progression and outcomes; and identifying therapeutic vulnerabilities and targets for the development of effective interception strategies.
Therapy resistance: Identifying tumor cell-intrinsic and microenvironmental factors influencing tumor response to anti-cancer therapies; identifying signatures and developing models to predict a patient's response before treatment; and identifying novel targets for the development of effective combination therapies.
Minimal residual disease (MRD): Characterizing cancer cells and the tumor microenvironment that protects and shelters drug-resistant cells.
Metastasis: Interrogating the cellular and molecular basis of metastases and understand in detail the cancer evolution, interaction, and adaptation of cancer cells and various types of immune and stromal cells in different local microenvironments at primary and metastatic sites
The lab has been growing continually since started in 2017, and we now have 17 members. We have been very productive (see lab publications) and have built truly collaborative networks and established a team-based strategy to tackle cancer. The lab is very well-funded with grants from the National Cancer Institute (R01, U01), the Cancer Prevention and Research Institute of Texas (CPRIT IIRA), the Break Through Cancer (BTC) Foundation, the Andy Sabin Family Foundation, the MD Anderson Cancer Center Moon Shots Program, and multiple other collaborative grants (e.g., R01, SPORE, DoD, U24, CPRIT).
We are a happy, caring, and sharing family! We're seeking highly motivated graduate students who love the work we're doing and share our enthusiasm and ambition.
Education & Training
PhD, The University of Tokyo, 2011
Programs
---
Faculty Development
---
---