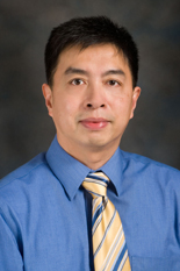 The University of Texas MD Anderson Cancer Center
Department of Systems Biology
In my laboratory, we focus on identifying key determinants of immune checkpoint blockade (ICB) responsiveness in low tumor mutation burden (TMB) cancer lineages and developing novel therapeutic approaches to sensitize ICB-resistant low TMB cancer to immunotherapy.
Recent clinical trials have discovered that within low TMB cancers, such as breast cancer, glioblastoma, and renal cell carcinoma, 10-30% of patients receive clinical benefit from ICB. However, the biomarkers established in the context of high TMB cancers, such as melanoma, show no predictive value in these patients. Thus, there exists an urgent need to identify which patients from low TMB cancer lineages may benefit from ICB, as well as understand what causes this response in order to identify ways to enhance therapeutic effects. We have recently found that a replication stress response defect (RSRD) gene signature could accurately predict ICB response in 10 independent low TMB patient cohorts across 5 different tumor lineages. We also found that responsive RSRD-high tumors is linked to accumulation of immunostimulatory cytosolic single-stranded DNA (ssDNA) and the expression of immunogenic cytokines. Thorough investigation on how RSRD acts as a key determinant of ICB response and if pharmacological induction of RSRD and/or cytosolic ssDNA can promote ICB responses in low TMB cancers may help to expand the benefits of ICB to even larger cancer population.
Available projects include (1) identify genes mediating the predictive power of RSRD signature by CRISPR screening (2) use a highly multiplexed imaging mass cytometry (iCyTOF) panel to determine how RSRD remodels the immune microenvironment (3) screen for RSRD-inducing drugs to enhance the efficacy of ICB (4) develop RSRD signature and/or cytosolic ssDNA as robust biomarkers for ICB treatments.
revised 1.22.2020
Education & Training
PhD, MD Anderson UTHealth Graduate School, 1999
Research Opportunities
---
Programs
---
Faculty Development
---
---