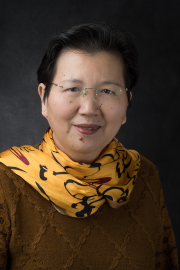 Xiao Ni
Associate Member
Associate Professor
The University of Texas MD Anderson Cancer Center
Department of Dermatology
My three ongoing research projects include:
The main project is identifying and validating driver mutations and gene alternations for cutaneous T-cell lymphoma (CTCL). We are now working on a newly identified fusion gene.
Another project is testing new compounds to target CCR4+ lymphoma cells. We are assessing effects of two CCR4 inhibitors on cell proliferation, apoptosis, chemotaxis, and cytokine secretion in CTCL cell lines and primary lymphoma cells.
The goal of our translational research projects is to identify molecular biomarkers for response and resistance to photopheresis and other therapies in CTCL patients, and hope to use these biomarkers subgroup patients for better specific therapy indications.
Education & Training
Ph.D. - Peking Union Medical College - 1999
Research Opportunities
---
Programs
---
Faculty Development
---
---