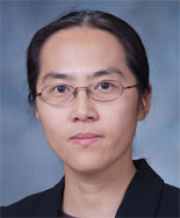 He (Catherine) Wang
Associate Member
Associate Professor
The University of Texas MD Anderson Cancer Center
Department of Radiation Physics
1) Image guided radiotherapy – develop and evaluate the procedure of image-guided head-and-neck stereotactic radiation treatment. Daily CBCT are used for verification of treatment setup, and for retrospective analysis of treatment plan delivery accuracy.
2) Organ motion analysis and their dosimetric effect – investigate the organ motion (lung, stomach, heart) in the course of radiation treatment, and their effect in changing treatment plan delivery accuracy.
3) Deformable image registration – apply deformable image registration technique to clinical practice, including transferring region of interests between CT images and evaluation of daily treatment plan delivery.
Education & Training
Ph.D. - Shanghai Jiaotong University - 1996
Programs
---
Faculty Development
---
---