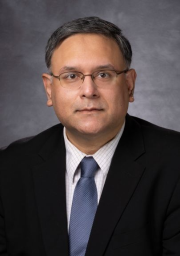 Chirag Patel
Regular Member
Assistant Professor
The University of Texas MD Anderson Cancer Center
Department of Neuro-Oncology
This interdisciplinary and translational laboratory studies the biology of glioblastoma, the most common and lethal form of primary brain cancer in adults. With the hope of ultimately improving outcomes for patients with brain tumors, we investigate novel therapeutic strategies in pre-clinical models. One such strategy is therapeutic alternating electric fields, which have been shown to work in concert with traditional chemotherapy and radiation therapy to better impair cancer growth. We have previously shown that the electric fields permeabilize the membranes of cancer cells in a selective and reversible manner, a finding that could be leveraged to improve both cancer therapy and biomarker detection. We aim to elucidate the other anti-cancer mechanisms of this emerging therapeutic modality.
In addition, we study the interactions between tumors and the brain microenvironment. Specifically, we use biomimetic 3D platforms to study the electrophysiology of cancers and how this property of cancer cells may provide unique insights to understanding patterns of susceptibility versus resistance to therapy. This work will enhance our understanding of the nervous system's interactions with, and control of, cancer. Finally, we are studying the utility of novel MRI and PET approaches in predicting and enabling earlier detection of cancer recurrence in the brain.
PhD students conducting a tutorial in the laboratory would be invited to participate in lab meetings and work on current projects alongside the lab members. Skills and techniques frequently used in the lab include tissue culture (2D and 3D), microscopy, animal models of brain cancer, in vivo imaging, electrophysiology recording, western blot, PCR, image processing, data analysis, and programming.
Education & Training
MD – University of Texas McGovern Medical School – 2012
PhD – MD Anderson UT Graduate School – 2010
Research Opportunities
---
Programs
---
Faculty Development
---
---