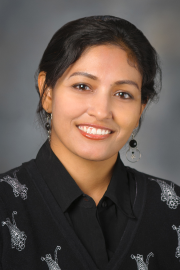 Rama Soundararajan
Associate Member
Associate Professor
The University of Texas MD Anderson Cancer Center
Department of Translational Molecular Pathology
My research interests can be broadly divided into 3 major categories – 1) understanding the context-dependent role of pleiotropic signaling cascades in the progression of variant/neuroendocrine prostate cancers; 2) investigating the molecular links between hypertension and cancer, and 3) identifying determinants of metastatic competence in breast and prostate carcinoma cells.
Our recent efforts have led to the discovery of a novel embryonic gene expression signature that predicts metastatic proficiency in tumor cells. We are currently refining this signature for better prediction of clinical outcome. We have also demonstrated that aggressive carcinoma cells that are insensitive to therapy, are characterized by elevated epithelial-to-mesenchymal transition (EMT) signaling, and that targeting these cascades using well-tolerated small molecule therapeutics (impacting pleiotropic kinase signaling) restores epithelial attributes and drug-sensitivity, and also reduces the shedding of circulating tumor cells in vivo, with significant shrinkage in the tumor mass (using a variety of models, including human-in-mouse xenografts). Validation of direct targets of EMT signaling has permitted the exploration of FDA-approved signaling inhibitors as novel treatment strategies for targeting cancer stem-cell (CSC) functions.
I am also interested in understanding the role of sodium influx in the fundamental biology of cell migration, as it pertains to metastatic competence bestowed by the EMT/cancer stem-cell phenotype in breast carcinoma cells. Hypertension has long been recognized as an independent risk factor for cancer. However, the contribution of major players in this field to breast tumor progression and metastasis remains largely unknown. We have discovered that inhibiting a complex that is commonly associated with hypertension and the maintenance of blood pressure, can selectively yet significantly diminish the migratory capacity of highly invasive, drug-resistant triple-negative breast cancer cells, as well as markedly impede their CSC properties. We are currently examining the functional relevance of these observations in multiple independent experimental model systems.
Education & Training
PhD, Indian Institute of Science, 2003
Programs
---
Faculty Development
---
---