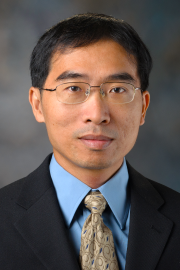 Guocan Wang
Regular Member
Assistant Professor
The University of Texas MD Anderson Cancer Center
Department of Genitourinary Medical Oncology-Research
My research interests focus on understanding how the genetic makeup of prostate cancer and the heterogeneity in tumor microenvironment (TME) influences cancer progression, metastasis and therapy resistance at the molecular and cellular level by integrating a diversity of research approaches
and experimental models, with a long-term goal to translate the basic findings in the laboratory into drug discovery and patient care.
Using Genetically Engineered Mouse Models (GEMMs), we demonstrated that targeting the Yap1- dependent infiltration of myeloid-derived suppressor cells (MDSCs) into tumors can be an effective therapeutic approach in advanced prostate cancer. Part of our ongoing work is to investigate the role
of MDSCs in the development of castration resistant prostate cancer, and novel combination therapy using MDSCs targeting agent and immune checkpoint inhibitors in bone metastasis. In addition, we continue to study the role of Hippo/YAP1/TAZ signaling in tumor-stroma crosstalk prostate cancer
progression, metastasis, and therapy resistance.
In addition, we have generated GEMMs for aggressive variant prostate cancer (AVPC) with small cell or neuroendocrine features, which were previously rare but has been increasingly observed in the clinic in recent years. AVPC usually have a poor prognosis because of the lack of effective systemic therapies, a result of the androgen-independent phenotypes. Tumor microenvironment is largely unknown in AVPC since current knowledge on the TME in prostate cancer is largely obtained from adenocarcinoma. Our ongoing studies focus on the mechanisms underlying the development of AVPCs from prostate adenocarcinoma through lineage transdifferentiation and the is complex tumor-TME crosstalk AVPC.
Education & Training
PhD, Cornell University, 2011
MD, Sun Yat-Sen University, 2001
Research Opportunities
---
Programs
---
Faculty Development
---
---