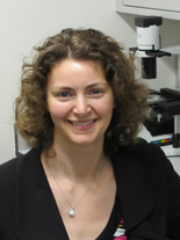 Pamela Wenzel
Regular Member
Associate Professor
The University of Texas Health Science Center at Houston
McGovern Medical School
Department of Integrative Biology and Pharmacology
Biomechanical force is present throughout the body and impacts a wide array of tissues and cell types. Dr. Wenzel's research is focused on understanding the relationship between microenvironmental forces and stem cell potential. Members of her lab study how biophysical cues, such as force and cellular mechanics, impact the function and development of stem cells and their differentiated progeny.

Our research aims to evaluate the effects of force on a number of biological processes, including hematopoiesis, inflammation, and metastasis. Experiments are designed to advance the field toward establishing high quality sources of stem cells that can be used for treatment of neurological injuries, hematologic cancers, anemias, and bone marrow failure syndromes.
A number of genetic and biochemical pathways are currently under investigation as key players that mediate the signaling cascades downstream of mechanical force, and we employ various approaches to evaluate their role(s) in determining stem cell potential, including microfluidics, nanolithography, pharmacology, mouse genetics, and surgery. Tutorial-based projects rely upon in vitro methodologies for the exposure of stem cells to mechanical forces. These approaches are paired with in vivo functional analyses in animal models and often require a combination of classical cell and molecular biology techniques, fluorescence activated cell sorting, chemical and mechanical engineering, small molecule screens, and large-scale gene expression analysis.
McGovern Medical School Faculty
Education & Training
Ph.D. - The Ohio State University - 2007
Research Opportunities
---
Programs
---
Faculty Development
---
---