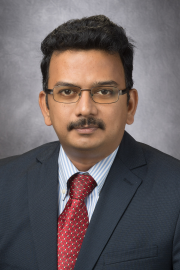 The University of Texas MD Anderson Cancer Center
Department of Leukemia
Dr. V. Lokesh Battula received his Ph.D. degree from Justus Liebig University in Germany and did his postdoctoral fellowship at University of Tübingen, Germany and MD Anderson Cancer Center, Houston, TX. Dr. Battula's research is focused on understanding the role of stem-like cells in cancer. His group is interested in cancer stem cells (CSCs), which are highly metastatic and resistant to conventional chemotherapy. Dr. Battula discovered GD2 and GD3 Synthase as a unique marker to identify CSCs from primary breast tumors and cell lines. Dr. Battula is interested in developing tools for targeting these unique markers in CSCs and further develop them for therapeutic applications. Dr. Battula is also interested in understanding the metabolic processes that regulate the expression of GD2 as well as the function of CSCs in primary tumors. Another unique feature of CSCs is to escape from immune surveillance. Immune-checkpoint proteins that are highly expressed in cancer cells play a crucial role in the inhibition of immune cells Dr. Battula is interested in identification and targeting of immune checkpoint proteins in solid tumors and hematologic malignancies. He is developing therapeutic antibodies against immune checkpoint proteins that could be used to treat cancer patients. Overall, Dr. Battula's lab is interested in understanding the mechanisms contributing chemo-resistance, tumor initiation and metastasis of cancer stem cells. Besides, Dr. Battula is developing novel therapeutic tools to target immune-checkpoint proteins in cancer cells and activate NK/T cells against cancer cells.
Education & Training
Ph.D. - Justus Liebig University, Germany - 2006
Research Info
Targeting Cancer Stem Cells and Tumor-Stroma Interactions. Development of Immune Checkpoint Inhibitors for Cancer Therapy
Research Opportunities
---
Programs
---
---