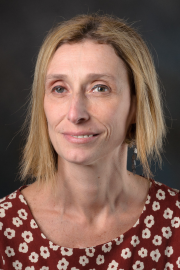 Simona Colla
Regular Member
Associate Professor
The University of Texas MD Anderson Cancer Center
Department of Leukemia
My laboratory is interested in understanding the biological mechanisms underlying the pathogenesis of Myelodysplastic Syndrome with the overall goal of developing strategies for improved prevention and treatment of this disease.
Myelodysplastic syndromes (MDS) are a very heterogeneous group of hematopoietic cancers characterized by bone marrow (BM) failure, peripheral blood (PB) cytopenias, and significant risk of transformation to acute myelogenous leukemia. Currently, there are no curative therapeutic alternatives for patients with MDS, except for a small subset of patients that are candidates for stem cell transplantation, which attests to the serious nature of the problem and the need for focused efforts to discover therapeutic approaches that may improve the prognosis and offer increased cure rates.
Hypomethylating agents (HMA) are currently the only standard approved therapies for MDS. However, only 40 to 50% of patients treated with HMA experience hematological improvement, and complete responses occur in as few as 10 to 15% of treated patients, regardless of the genetic alterations in the disease. All patients eventually develop resistance to HMA and progress to AML, and resistance is associated with dismal prognosis.
Recent studies from our group have shown that the response to HMA and the outcome of MDS patients treated with HMA are completely independent of any molecular alteration, which suggests that relapse may derive from the inability to effectively eradicate the more primitive MDS hematopoietic stem cell (HSC) that is responsible for disease maintenance. Using patient samples and physiologically relevant mouse models we aim to characterize the HSC responsible for disease relapse to identify new targeted therapeutic approaches.
My laboratory is also interested in understanding the role of telomere dysfunction in MDS predisposition and pathogenesis.
We employ an inducible mouse model of short telomeres, which is prone to the development of MDS (Colla et al. Cancer Cell 2015), to identify the biological and molecular mechanisms that predispose telomere dysfunctional HSCs to malignant transformation and uncover the genetic events that drive HSC clonal evolution in the setting of telomere dysfunction.
Students rotating in the Colla laboratory would learn:
How to isolate and characterize hematopoietic stem cell from MDS mouse models and patient bone marrow aspirates
How to perform preclinical studies using mouse models of MM and MDS
How to design experiments of flow cytometry, immunofluorescence, lentiviral transduction, and next generation sequencing
Education & Training
Ph.D. - University of Modena - 2005
Research Opportunities
---
Programs
---
Faculty Development
---
---