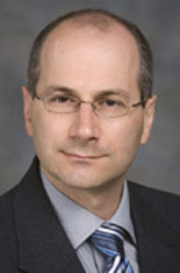 Seyed Javad Moghaddam
Regular Member
Associate Professor
The University of Texas MD Anderson Cancer Center
Department of Pulmonary Medicine
The research in my laboratory is focused on airway inflammation and its role in airway epithelial tumorigenesis. Tumor-promoting inflammation is a cancer hallmark, and it is considered an enabling characteristic due to its contributions to the acquisition of core hallmark capabilities. It is known that mutant epithelial cells begin to edit the microenvironment as soon as they transform but the exact mechanisms involved in this immuno-editing process from escaping the immunosurveillance to tumor progression still not well understood. We have previously shown that a specific network of cytokines released during inflammation promotes K-ras mutant lung cancer in a genetic mouse model. Of note, the risk and outcome of lung cancer are vastly distinct between men and women, especially for smokers. However, the reason for this sex disparity is poorly understood and extremely underappreciated. We recently made an astonishing sex specific discovery using a mouse model for K-ras-driven lung cancer. Therefore, we are currently seeking to determine the cell type and sex specific mechanistic roles of inflammatory signaling cues and the functional significance of targeting these inflammatory pathways in the pathogenesis of K-ras mutant lung cancer using genetic and pharmacologic approaches. In addition, I am collaborating with teams and laboratories that have been at the forefront of these subjects to address novel questions with a state-of-the-art research collaborative and translate these findings to the clinic.
Our projects provide a better understanding of the role of specific inflammatory pathways in lung tumorigenesis, and subsequently allow preclinical testing of the efficacy of selective anti-inflammatory agents in this setting. This would have a major impact on preventing the leading cause of cancer death by providing the baselines for future rationally directed targeted personalized preventive strategy in patients at high risk for lung cancer development (smokers and COPD patients) as well as therapy in patients with a diagnosis of K-ras mutant lung cancer in combination with currently available chemotherapy, immunotherapy or other targeted therapies.
Students working in my laboratory will have the opportunity to study lung biology, airway inflammation, molecular and immunological aspects of lung cancer, and tumor microenvironment. Techniques include small animal surgery and tissue harvesting, histopathology, microscopic analysis, immunohistochemistry (IHC/IF), DNA and RNA based techniques, transgenic modeling, as well as immune cell sorting and profiling.
Education & Training
MD, Shaheed Beheshti University of Medical Sciences, 1996
Programs
---
Faculty Development
---
---