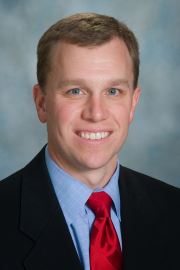 Scott Evans
Regular Member
Professor and Chairman ad interim
The University of Texas MD Anderson Cancer Center
Department of Pulmonary Medicine
Infectious pneumonias result in more premature death and disability than any other condition worldwide. This problem is amplified among immunocompromised patients, such as those with hematologic malignancies or those receiving cytotoxic chemotherapy, as they are susceptible to infection by an extremely broad array of pathogens. However, even when patients receive myeloablative therapy, their lung epithelial cells remain capable of remarkable structural and functional plasticity in response to pathogen interactions. The major goal of my laboratory is to harness these lung epithelial responses to prevent the establishment of pneumonia in at risk populations.
My laboratory has found, both in vivo and in vitro, that lung epithelial cells are sufficient to kill a wide variety of respiratory pathogens. By stimulating the epithelium with combinations of pathogen-associated molecular patterns (primarily Toll-like receptor ligands), we induce intrapulmonary killing of pathogens, and demonstrate striking survival improvements despite challenges with Gram-positive, Gram-negative, viral, fungal, and even bioterror pathogens.
Graduate students in my laboratory focus on projects related to the mechanisms underlying the inducibility of microbial resistance in the lung epithelium. Projects include investigations to determine the necessary and sufficient epithelial cell populations for induction of resistance, dissection of the signaling pathways that promote protection, and the clarification of the epithelium-derived effector molecules that promote pathogen killing, such as antimicrobial peptides and reactive oxygen intermediates. These objectives are primarily investigated in vivo using knockout and transgenic mice to manipulate the genes of interest, and in vitro using epithelial cell culture techniques.
YouTube Video - Meet Dr. Evans
Keywords: innate immunity, immunocompromised host, pneumonia, host-pathogen interaction, pattern recognition receptors, TLR, RLR, RIG-I, ODN, oligodeoxynucleotide, Pam2, mouse genetics, cell signaling, bacteria, virus, fungus, infection models, synergy, epithelium, epithelial biology, mouse models, ROS, reactive oxygen species, AMP, antimicrobial peptides, inducible resistance
Education & Training
MD, The University of Texas Medical School at San Antonio, 1999
Video
Research Opportunities
---
Programs
---
Faculty Development
---
---