Medical physics is a profession that combines principles of physics and engineering with those of biology and medicine to effect better diagnosis and treatment of human disease while ensuring the safety of the public, our patients and those caring for them.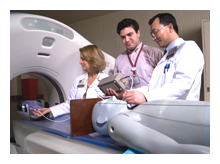 The Medical Physics Graduate Program offers the Specialized Master of Science degree and the Master of Science and Doctor of Philosophy degrees through the MD Anderson Cancer Center UTHealth Graduate School of Biomedical Sciences. Two UT components, UTHealth and MD Anderson, jointly support the program, with the majority of faculty and students, as well as the program administration, working at MD Anderson.
The S.M.S. degree is a professional master's degree that prepares the student for clinical practice as a medical physicist. The Ph.D. degree is intended for the student who is preparing for a career that includes a strong research component. The two degree tracks have similar didactic curricula, but the S.M.S. research project is typically more clinically focused and shorter in duration than the research work for the M.S. and Ph.D. degrees.