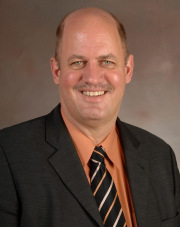 The University of Texas Health Science Center at Houston
McGovern Medical School
Departments of Anesthesiology & Biochemistry and Molecular Biology
I am a physician scientist trained in anesthesiology and critical care medicine, and a funded investigator to study the role of hypoxia-elicited adaptive responses in the context of acute organ failure. Many surgical patients experience acute organ injury in their perioperative hospital course, which leads to significant morbidity and mortality. At present, therapeutic approaches to prevent or treat acute organ injury – such as acute kidney or lung injury, intestinal inflammation or myocardial ischemia are very limited. My laboratory is particularly interested in studying endogenous adaptive pathways that are under the control of hypoxia-inducible factors. We have applied these molecular concepts in a wide range of disease models that are important for the field of anesthesiology and critical care medicine, including myocardial ischemia, acute kidney injury, liver ischemia or acute lung injury and intestinal inflammation. Many of our studies point towards an adaptive role for hypoxia-elicited signaling pathways, for example by attenuating hypoxia-associated inflammation or promoting ischemia tolerance. We are currently exploring translational approaches to take these findings from bench to bedside, and we anticipate that some of these findings will lead to novel approaches to prevent or treat acute organ injury in patients who require major surgery or suffer from critical illness.
My research laboratory is particularly devoted towards providing junior investigators with unique training and career opportunities. As such, I have trained many scientists and physician scientists from the field of anesthesiology, surgery, immunology and critical care medicine. Several of my trainees went on to become funded investigators (e.g. via NIH K08 or R01 mechanisms) or took over academic leadership roles.
Students who train in my laboratory can participate in projects that address immunologic aspects of organ injury in a wide range of model systems, including the lungs, intestine, liver, kidney or the heart. They will have opportunities to work in molecular approaches (PCR, Western, gene silencing, etc.) in combination with a wide range of studies in murine in vivo model systems.
McGovern Medical School Faculty
Education & Training
M.D./Ph.D. - Eberhard Karls University - 1996
Research Opportunities
---
Programs
---
---