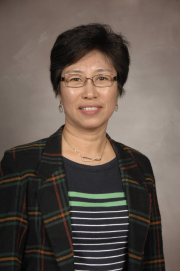 Hongyu Wang
Associate Member
Assistant Professor
The University of Texas Health Science Center at Houston
McGovern Medical School
Department of Diagnostic and Interventional Imaging & Institute of Molecular Medicine
My research interests include
Biomarkers discovery and validation for cancer detection and prognosis. Combining aptamer technology with mass spectrometry proteomics, we can simultaneously discover high binding affinity aptamer sequences and aptamer associated target proteins as potential biomarkers for diagnostic, prognostic and imaging applications.
Applying a novel X-aptamer technology to cancer immunotherapy and biomarker discovery for clinical applications. We are going to develop a new platform to identify new generation X-aptamers that have high binding affinity to immune checkpoint inhibitors and immune modulators and can be used as an alternate to antibodies for predictive diagnosis and treatment of many types of cancers.
Linkages of genetic variations and protein biomarkers. Based on genetic analysis using Next-generation sequencing (NGS) and current proteomics/metabolomics studies, we will study the influences of regulatory genetic variation on biomarker status.
Education & Training
M.D. - Southeast University - China - 1986
Ph.D. - University of Kiel - Germany - 1997
Programs
---
Faculty Development
---
---